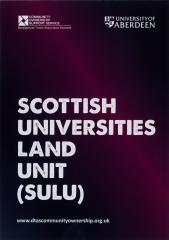 In 2018, the Scottish University Land Unit (SULU) was set up to encourage law students across Scotland to take an active interest in land reform, community empowerment, and community rights in respect of land. Throughout the year, this ran as pilot with the University of Aberdeen, with a dedicated band of 12 students working in partnership with the Development Trusts Association Scotland (DTAS) and the Community Ownership Support Service (COSS) to provide practical support to community bodies looking to exercise these rights. 
To give a flavour of SULU's work, in this time SULU students provided advice on issues such as:
Rights of pre-emption in title, how they are triggered, and how they are extinguished
This related to a proposed community buy out of an old school house, the titles for which included a right of pre-emption in favour of a former owner, which could potentially have undermined the sale. SULU provided a helpful advice note setting out the legal framework and the options available to the community in terms of taking things forwards.  
Economic Development Burdens
This is an ongoing piece of work looking at when and how local authorities can legitimately impose economic development burdens when transferring title, and when and how these can be enforced. SULU has helped by identifying relevant case law, and may be able to provide more help going forward.
Various property law issues, including access rights and encroachment
This related to issues experienced by a charity, where it wasn't clear what right they had to access their property, parts of which had been built both outwith their boundary and contrary to title conditions. Again, SULU provided advice on the legal framework to allow the charity to make a more informed decision about what to do next.  
Throughout this time, there has been a lot of interest in SULU and the potential support that can be provided to groups, with scope for a lot more queries to be fed through to SULU students.
Taking this forward into 2019, we're looking to increase capacity by dedicating more time within COSS to the SULU project, and expanding the project to other universities in Scotland, including looking at the potential for incorporating this into the curriculum. We're also looking to expand the role of SULU such that we can commission SULU students to prepare specific resources that could then be made available to communities everywhere, and to open up access to SULU to other organisations and anyone involved in community ownership anywhere in Scotland.
So, if you have any queries that you think SULU might be able to help with, would like to get involved, or would just like to find out more, please do get in touch!
Contact: sulu [at] dtascot [dot] org [dot] uk
Further information about SULU also available here.