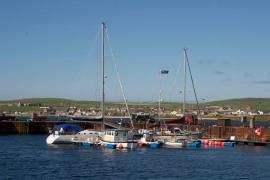 Planning affects everyone's lives, from making sure we have the right types of homes to improving our places and driving forward regeneration.
The Scottish Government has set out 20 proposals for revamping the planning system, which will support economic growth, delivery of houses and increase community involvement in planning decisions. They form a consultation which will pave the way for a planning bill to be brought forward in 2017.
The proposals build on recommendations of an independent review carried out by a panel of experts in 2016. Key changes include simplifying our system of development plans, improving consultation procedures and removing the need to apply for planning permission for more types of development.
It is clear Scotland needs a strong and efficient system for long-term economic growth. These proposals could mean we are better placed to make high quality development happen sooner and in the right places.
Right across Scotland, planners can lead the delivery of great places, empower communities and provide a stable environment for investment through the uncertain times we live in. The consultation also seeks views on new rights for communities to produce their own plans for their local area. 
Whether you are a community group or an individual member of the public, a business or a public authority the Scottish Government want to hear what you think of our proposals for change.
The consultation, "Places, people and planning" ends on Tuesday 4 April 2017 Information on the proposals can be accessed on the Scottish Government Website