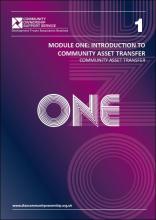 This module is the first in a series of six which have been produced by the Community Ownership Support Service (COSS) to support the sustainable transfer of publicly-held assets into community ownership. COSS is delivered by the Development Trusts Association for Scotland and funded by the Scottish Government.
Engaging in community asset transfer involves three core elements:
Examining the feasibility of an asset transfer
Planning for the asset transfer
Managing and sustaining the asset when acquired
This series of modules covers each of these areas and provides advice and guidance on making an application for asset transfer helping to ensure it is robust.